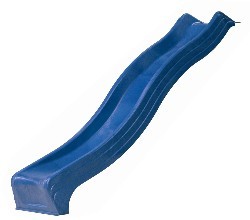 Wavy Slide Body 3m
[KBT41414]
No shipping abroad possible!



Wavy Slide Body 3 m long
Can be screwed to a wooden platform or mounted at an embankment/ hill.
Made of HDPE plastics.
Safety certificates: TÜV/GS tested
Approved for doemstic use only.
Dimensions:
Podest height: 1.45 - 1.55 m
Width: 0.5 m
Length: 3.00 m
Assembly:
Comes with 2 pre-drilled holes for 6 mm counter sunk screws (not included).
from the category:
Slides for private playgrounds